The mindset for start-ups is to keep the costs down and develop fast with quality. Therefore the idea is to have continuous improvement loops and publish the most viable product (MVP) version as soon as possible. Microsoft Azure provides services which are essential to the Software as a Service (SaaS) products. Most importantly and fortunately, most of these services have a free plan to kick start the development project. In this blog post, I'll have a review of these free Azure essential services in SaaS architecture.
During 14 years of my career, I have worked with customers from different industry sectors and various project types. Most of them were Enterprise-grade business-to-business (b2b) solutions, and my experience with business-to.customer (b2c) products is quite narrow. As explained in my previous blog post, recent Azure certification exams are demanding, and studying requires a lot of reading and hands-on training. During my studies, the outcome product has taken my attention and interest to develop the product further. Let's have a look at the SaaS high-level architecture in it's purest form.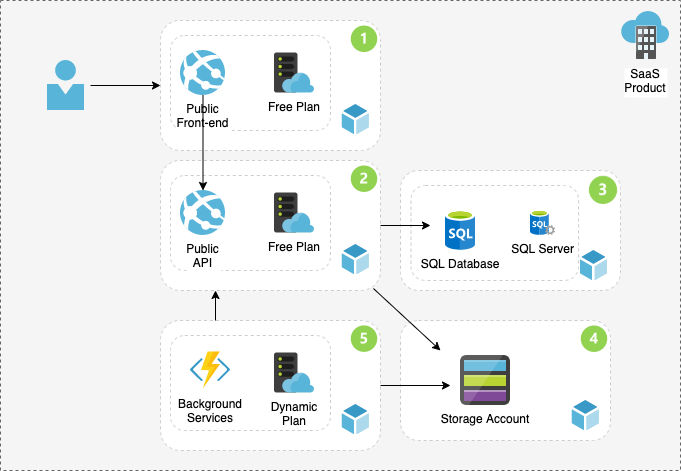 The illustration represents free azure services in Service-oriented SaaS architecture. These services are:
The services above are the perfect initial parts of a SaaS application. The architecture can be extended with other services to provide an industry lead solution which can be topics for my next blog posts.